my Nephew Aaron got his bling…
Gosh… I didn't know you were Snoop's UNCLE??? There is a bit of family resemblance…





UJ

PS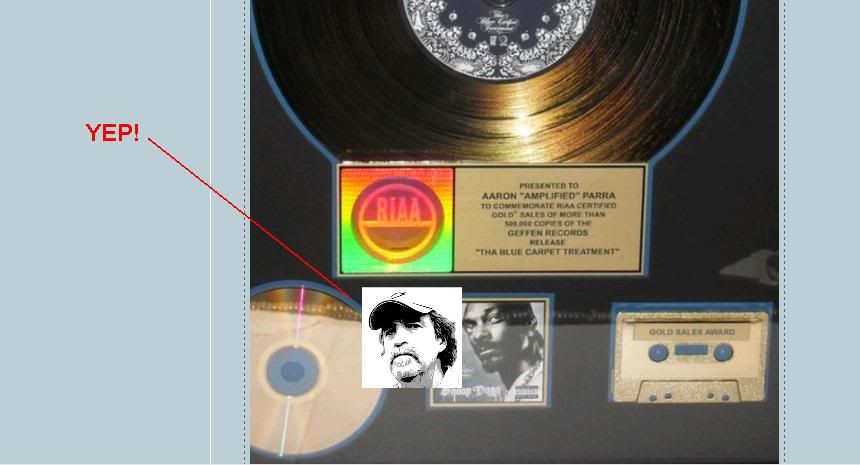 YEP!


Boy…
That's the closest I've been to one of them plaques…
I don't see any date on it…
OR
don't they date those…


?


Bill…
funny D - er UJ It's Aaron Parra - my little sister's kid. amazing keyboard player and now Gold Record awarded beat maker. The Snoop Dogg LP was released two years ago and Aaron's manager, Battlecat (fur real?) decided the 'kid' was overdue to get some bling. Half a million hard copies used to be awesome then went meh and now back to awesome with online digital sales. Not sure RIAA counts those all together or what. I remember posting that article years ago Tom - cool you remembered.

So ya'll are now officially down to just 2 degrees of separation from Snoop Dogg? My gift to ya'll fur Chrispers.

http://en.wikipedia.org/wiki/Tha_Blue_Carpet_Treatment
Make sure to pass on my congrats Pops.



UJ, D… Whoever I bees…
That is way cool…now we know somebody that knows somebody, that has actually done something. And I think I saw his name mentioned in a recent article on audio engineers/producers and using tube driven condensers mics…Might that be right?

Who wood-a thunk it: Poppas' Family, from goat ropin cowboy music to rapin gangsta's and everything in between…

Hey…think he might bring Snoop over for Christmas? You guys could smoke the yule log.

All kidding, thats great.
So, what explains the ubiquitous nature of musical talent in Poppa's extended family?
Well in my immediate family - 5 boys 5 girls - If you wanted to feel part of the family you picked up somethin' and played… 'cause that's what mom and dad did for fun and entertainment (along with the process of passing down there genes). Music was the center of our lives. My sister Sue came into being on the tail end of most of it, she sang but never played anything but the love for music and the bond of those times together was carried on in her family in Aaron who was self taught on keyboard and was playing Scott Joplin perfectly at age 6. I've always called it God given talent. Some nurture it, some don't. He sent me about 2 hours of freestyle piano a while back - think I'll pull it into the daw and drift away today.
I'd love to hear a bit o' that, Tommy.