Hello,

I am evaluating the demo version of N-Track and I am having a problem.

I am getting a fatal error when clicking "Start" in the mixdown dialog. Here is my setup:

Windows 7-64-bit
Intel i3
Echo Layla 24/96
N-Track Version 7.1.0 build 3245

I am able to record all 8 inputs and can see and edit the tracks. I have the output channels mapped using "Soundcard's settings" and "Select I/O channels".

The problem occurs when I select "File>Mixdown song". After clicking the menu item, I enter a file name and I am presented with the "Mixdown Song" dialog. I then click "More options >>".

I see the correct "Tracks to mixdown" listed. I have the settings on this dialog set like this:

Entire song
Loops: 1
Use soundcard settings
Stereo
Process master channel: checked (all other unchecked)
Sample Frequency: 48000
In the dropdown in the lower Right I have selected "Single Multichannel file"

At this point I click the "Start" button in the "Mixdown Song" dialog and N-Track crashes. I am presented with a "fatal error" dialog and a warning that the program can't reach the Internet. The machine I am running N-Track on does not have an Internet connection.

What am I doing wrong?

Once I can make a single 8-channel wave file successfully, I will purchase the pro version of the software. I hope you can help me get this working.

I'm not sure if this a bug or just me messing something up. I sent an e-mail address to http://ntrack.com/bugs but have not received a response. If this is the wrong place to post this please move or delete it.

Thank you in advance,

ED
I have a Layla like yours and also run windows 7 64 bit. Actually you are getting further than I am. What version of the Echo software are you using? Are you using a compatibility setting to XP?
Bax
I meant to add that I don't think it is anything to do with the internet. I thing the problem is with the 64 bit operating system, but if you are getting the Echo software run, please tell me what you are doing to install the Echo software and maybe I can give it a try.
Hello,

Thank you for your offer to help.

I am using the 8.6 drivers for the Echo Layla 24/96. Here is a link to what I am using:

Echo Layla 8.6 drivers

Here is a picture of the "About" box from the Layla24 console: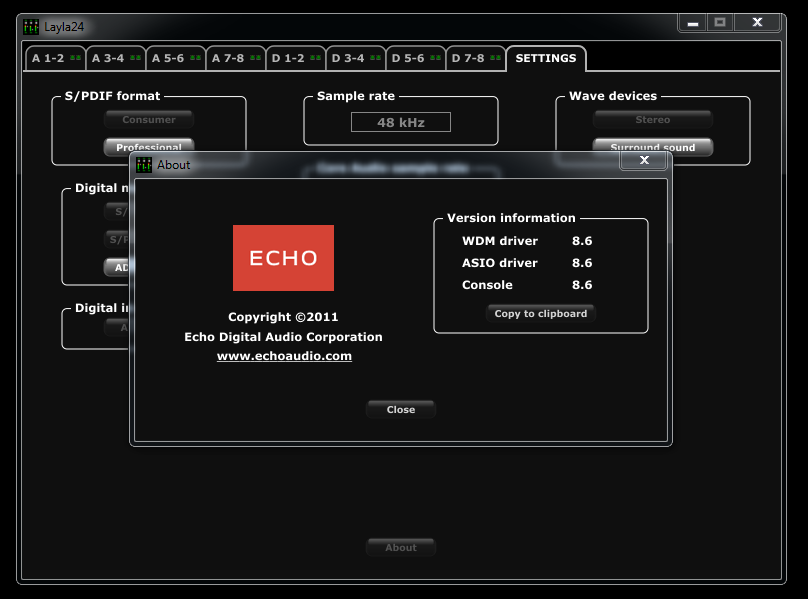 Here is a screen shot showing 8 channels recorded: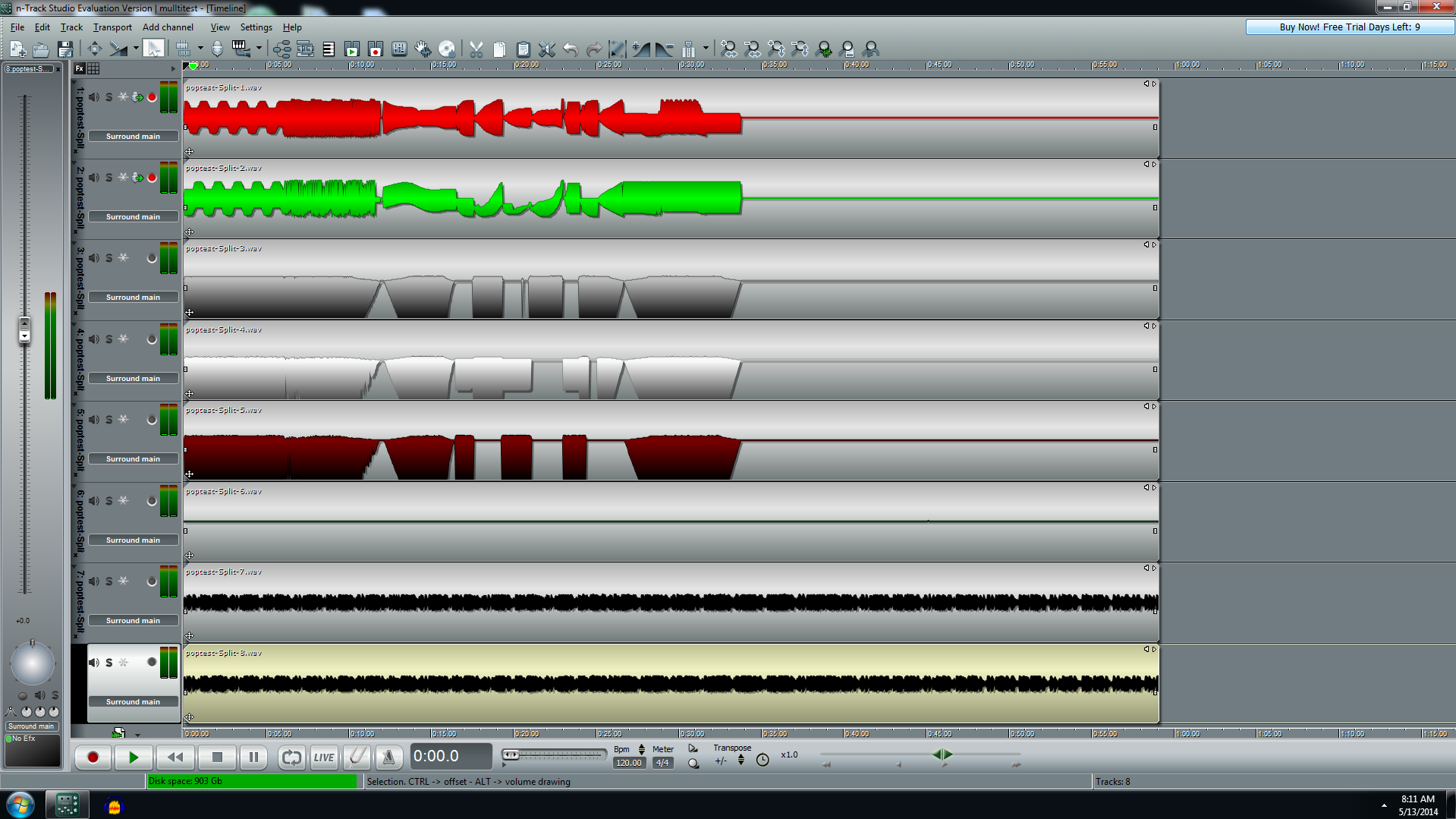 Any help would be great.

ED
Give. This a try and see what you find. The info is from the instructions on the Layla driver. Post what you find out here.
Troubleshooting
If your computer spontaneously reboots on you, you probably have experienced what Microsoft calls a "bug check", but what everyone else calls the Blue Screen of Death (BSOD).
The default setting for the BSOD is not to show the BSOD, but to reboot the computer. This isn't very helpful for tracking down problems. If you are experiencing blue screens, here's how you can help us track it down:
Select Start/Settings/Control Panel/System
Click on "Advanced system settings" in the left column
Click on the "Settings" button under "Startup and Recovery"
Uncheck "Automatically restart"
Set the memory dump to "Small Memory Dump" in the drop down menu under "Write debugging
information"
Now, next time you get a blue screen, look at it. See if the crash occurred in echo3g.sys, echo24.sys, echondgo.sys or EchoIndigoX.sys; if it did, it may be something we need to fix.
Restart your computer and find the most recent .dmp file – this is the memory dump. It's located in a folder called "Minidump" under your main Windows folder.
Zip up this .dmp file and send it to techsupport@echoaudio.com along with a description of how it happened.
The message from nTrack about the internet is because the program is attempting to send the Ntrack dump file to The Ntrack people so they will have the information to find the error that caused the program to crash. I will load the driver and Layla later today and see what I can discover.
Hello,

Thank you for the response.

My PC is not crashing, just N-Track. It only happens after I click "Start" in the "Mixdown Song" dialog.

The Echo Layla works fine in Audacity. In fact I have never had an issue with it or it's driver.

This problem is most likely caused by me not knowing exactly how to correctly set all the surround options.

I hope this problem can be sorted out, N-Track is SO much better than Audacity. N-Track being actively developed is a plus, for sure.

ED
I crashed my computer trying to run the Echo software. I think I made a major error in my setup, but Echo has changed the software and the way it worked is different and may be an issue: I use a Digimax ADAT input and its primary output is also digital. The Layla has both Digital and Analog I/o. I set the input to ADAT and the output to Analog and locked up the entire computer. I ended up rolling back the computer. I sent the dump to nTrack tech, but that was after I had tried to run nTrack after uninstalling the Layla. I will wait to see if the dump log tells Ntrack anything useful.
for you for now - your issue maybe in the settings.
check the Settings in nTrack.
Being as you are able to record and playback the issue maybe in the Settings.
Make certain that the samplings match. In NTrack open Settings > Preferences and select/choose the 48000 you are using.
If no joy - Next, try a different driver in the Settings > Audio. Make certain that all settings in the Layla Panel and nTrack match.
What are you using for the playback sound?
Some sound cards do not handle 48000 well. Try setting everything to 44100. Your going to end up with that anyway and it really does not effect the quality that I have ever found.
Try setting the Mixdown to 44100 instead of the sound card default

Do a search for *.dmp and find the nTrack dump file. Copy that to something that you can transfer to your Internet connected computer and send it to the Tech department at NTrack - they can then identify the source of the problem.
WOW! I didn't even know ntrack could do surround sound during mixdown.

I know we talked about it as a possible feature a few years back…

have you tried mixing down the song in stereo instead?

just to see if it is surround feature related.

my other thought is maybe the surround feature is not fully enabled on the trial version?

PS, I could really use some of your disk space! 903G lol
Quote: (ekeefe @ May 12 2014, 6:41 PM)
Hello,
I am evaluating the demo version of N-Track and I am having a problem.
I am getting a fatal error when clicking "Start" in the mixdown dialog. Here is my setup:
Windows 7-64-bit
Intel i3
Echo Layla 24/96
N-Track Version 7.1.0 build 3245
I am able to record all 8 inputs and can see and edit the tracks. I have the output channels mapped using "Soundcard's settings" and "Select I/O channels".
The problem occurs when I select "File>Mixdown song". After clicking the menu item, I enter a file name and I am presented with the "Mixdown Song" dialog. I then click "More options >>".
I see the correct "Tracks to mixdown" listed. I have the settings on this dialog set like this:
Entire song
Loops: 1
Use soundcard settings
Stereo
Process master channel: checked (all other unchecked)
Sample Frequency: 48000
In the dropdown in the lower Right I have selected "Single Multichannel file"
At this point I click the "Start" button in the "Mixdown Song" dialog and N-Track crashes. I am presented with a "fatal error" dialog and a warning that the program can't reach the Internet. The machine I am running N-Track on does not have an Internet connection.
What am I doing wrong?
Once I can make a single 8-channel wave file successfully, I will purchase the pro version of the software. I hope you can help me get this working.
I'm not sure if this a bug or just me messing something up. I sent an e-mail address to
http://ntrack.com/bugs
but have not received a response. If this is the wrong place to post this please move or delete it.
Thank you in advance,
ED
ED,
thanks to your report we've discovered a bug in the mixdown to single multichannel file in the latest version of n-Track. We plan to fix the bug in a new build which should be online in a couple of days. I'll post here when the new build is up.
Flavio.
Hello,

@bax3
Thank you for your suggestions. I have tried many combinations of settings on the "Mixdown Song" dialog, but with the same result.

@dontcare
Yes, I am able to mixdown to 4 stereo files. I am able to combine them to a single file with Audacity. It looks like the problem is isolated to the "Single Multichannel file" option.

@Flavio Antonioli
Thank you for looking into this. If you need any help with testing this feature before release, just ask. I would be happy to help with testing.

ED
Sorry for the double post.

ED
kewl,

I'm just glad it looks like it will be sorted.

it's a real crap shoot trying to reverse diagnose something!

bug would have been my last resort…but I sure am glad it was found!

in meantime you could go back to older builds before the multi-channel bug appeared!

Hello,

The program no longer crashes using "Single Multichannel file" in the mixdown dialog. .Thank you for the bug fix!

I still can not successfully create an 8 channel wave file, so now I am sure it is a setting or settings that I have wrong.

I didn't mention in the first post in this thread that I am using ASIO as the driver. Could this be part of the problem?

I am on the last day of my evaluation period, so I hope I can figure this out soon.

ED
What does exactly happen when you try to generate a multichannel audio file? Do you have 8 output channels selected on your audio output device (i.e. 4 stereo pairs, enabled in the "Settings" ->"Soundcard's setting" -> "Playback format" -> "Enable I/O channels" box?

Flavio.
Hello,

Thank you for asking.

My evaluation version ran out. I have faith that you will help me figure this out, so I purchased "n-Track Studio EX" this morning.

It may be easier to explain my problem with pictures. What I am trying to do with n-Track works perfectly in Audacity. Is it okay for me to post images from Audacity on this forum? I would include images from Audacity and all my settings in n-Track. I can also provide 8 audio tracks, 30 seconds each, and the resulting file I create in Audacity.

Would you prefer I post the images and files in this thread or privately link them to you?

Thank you for helping me with this.

ED
ED,

you can post images of Audacity to this thread, or if it's easier for you you can write directly to support@ntrack.com

Flavio.
Hello,

I just tried to make a post with 22 images and got this error:




I have sent this as an e-mail instead to: support@ntrack.com

Thank you,

ED
Hello,

Thank you to n-Track's awesome support, I was able to get this running.

The problem was I was not routing the tracks correctly so I was ending up with a multichannel file with 6 blank tracks and 2 tracks that had the audio from 4 tracks merged into each of them. Andrea at n-Track help me understand how the routing works.

So after the initial bug fix was released, me not understanding the program was the cause of my troubles.

I would like to say that n-Track has the best support I have ever experienced, even helping me before I bought the software.

If you are on the fence about n-Track, the support alone is worth the price.

Thank you to everyone who helped me with this issue.

ED