Ok - I was gettin a little frustrated myself.
I want to personally thank:

gunner Bubbagump PhantomII Dubious technoid (and others)

for their consistant (never ending) efforts to
call for improvements.
The resulting 'Bugs Page' is a direct result of
their efforts.







I'm glad to see it finally getting more attention. I am too far into my "new" DAW to go back now but, n-Track is a pretty good product that really could be a great product. I sincerely hope Flavio, with the assistance of the new bug reporting tool, can find the time to stomp out bugs and make needed performance improvements.

There's a great community here and I for one feel like all you guys deserve n-Track to be the best it can be. In the end, it will help Flavio where it counts most; in the pocketbook! A better product will sell more copies. Shoot… at some point I may even "buy back in". Anyway… it's great news and I'm hoping for big improvements for everybody's sake.



Good on ya' guys! Hang in there and report those bugs!

D

PS I don't know whether to feel "good" or not that being a "beetch" paid off… LOL!


It's a kind of "dubious" satisfaction I guess…
HEY! It's working!! Look what I seen when I went out for lunch!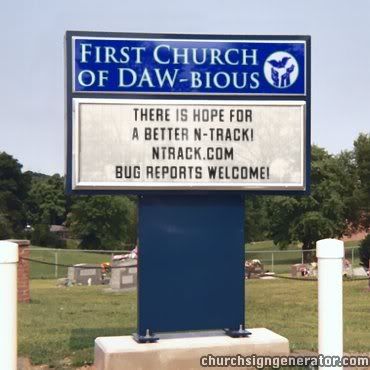 D


I think Flavio drove by it too… did you see the list of stuff in 6.0.1 Beta? Da' man has been BIZZZAAAYYYY!

Ya'll lemme know how it's going… I'm still NOT in the mood for bug snipin'…



D
Dubious, Poppa,


Y'all better be watching out fer squirrels n chipmonks!